Printed Space use your images and designs to create one off wallpapers, blinds, canvas art prints and now - vinyl cushion flooring. We can print to fit any size space. We are building a vast image and data bank to help your design ideas come to life - and if we don't have it, then we will help you find the perfect picture.
Choose your "space" on the left to browse through our product range, and the stories on the right will keep you up to date with our latest news, interesting installations and new product launches. Please do contact us with any questions or for advice.
As featured in December's Elle Decoration : Printed Space have teamed up with celebrated knitwear designer Melanie Porter to create this range of cosy "knitted" flooring. A range of Melanie's patterns can be custom made to fit any size floor space.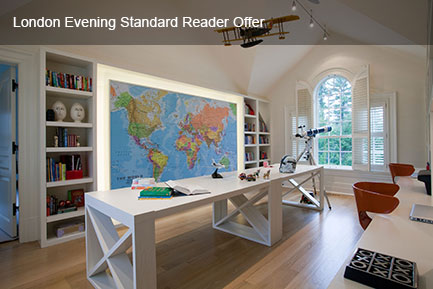 London Evening Standard reader offer as featured in home expert Alison Cork's Really Useful column - get a 30% discount off custom made world map wallpapers until 22nd November 2012.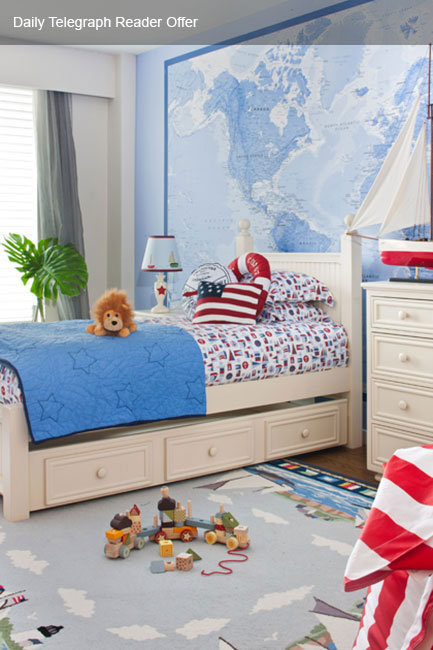 Our most popular theme by far is our collection of vintage maps - from Cassini's 19th century UK, Ireland and Europe wide data to A-Z's very first London street map c1938 with bus, trolleybus and tram routes. We can print mapping across all of the Printed Space product range, to fit any size area. You can select your own historical map region for a truly tailor made wallpaper or floor, alternatively, choose from our set artwork sizes available as "Buy Now" options for wall murals, canvas prints and acrylic wall art.
The Transformational Learning Hub at the new River View Primary School in Salford, Manchester, features our colourful A-Z map Floorink. Covering all 220sqm of floor space, the A-Z map creates a fun yet practical flooring solution - not only does it provide a dramatic feature, it is also an effective learning tool for the children. see more
Always quick to feature the latest style trends, Ideal Home used one of our Vintage Map easy fit wallpapers for their Style Focus article. These unique style maps are perfect for creating stylish feature walls in your home or office. We can print mapping for most of the UK to fit any size wall, however we have a few of the most popular London maps available at set sizes, printed onto our pre pasted wallpaper. Quote voucher code "Vintage30" in Google Checkout for £30.00 off these set sized wall murals.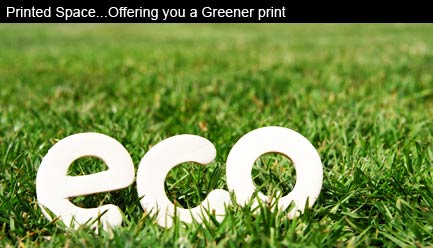 We are now pleased to be able to offer our clients a more environmentally friendly print option when it comes to photo murals and printed wallpapers. Printed Space have invested in HP's new water based Latex ink technology so now the majority of our wall coverings, photo roller blinds and large canvas art prints have stopped being manufactured with solvent based inks. Latex inks produce prints with the quality and durability of eco-solvent and low-solvent ink technologies but they're water based inks, so you get the application versatility, without the hassle associated with the environmental, health, and safety considerations of solvent-based inks.
read more
All you keen readers of Interior Design magazines may have spotted us in August's issue of "Ideal Home". We printed a World Map, converted to blue tones for a room set featured at this years Ideal Home show, and the photos were shown in this month's magazine.

Click here for more details


July brings an exciting collaboration between Printed Space and Cassini Maps. Vintage mapping dating back to the early 1800's can now be printed to any size onto any of our products.


These unique old style maps are perfect for creating stylish feature walls and floors for the home, the office and commercial spaces. Cassini has given Printed Space a selection of the most popular mapping areas - perfect for Floorink, or even for a stunning feature wallpaper. Walk across your street in your living room in 1920, or gaze upon your favorite city from a different century!
Best known for his exploration photography, George Steinmetz sets out to discover the few remaining secrets in our world today: remote deserts and obscure cultures A regular contributor to National Geographic and GEO Magazines, he has explored subjects ranging from the remotest stretches of Arabia's Empty Quarter to the unknown tree people of Irian Jaya.
George has hand picked a selection of his stunning images for Printed Space. Based on an aerial theme these images are deliberately selected for our Floorink range and are perfect for floors. Although they would also make amazing walls and focal-point canvases and blinds too.
Devised in the 1930'S the London Underground map is one of the classic designs of the 20th Century. Now, through Printed Space, this fabulous piece of iconic imagery is available for you to use on wallpaper and flooring. Graphic statements are proving very popular so if you need something with an authentic "wow" factor what better than the London Underground map.
Jim Morrison, Amy Winehouse and Pete Docherty were captured on wallpaper for the Heart & Soul bar in Altrincham through Purple Penguin Design. We also produced a wallpaper with their newly created tattoo/graffiti style logo. Printed Space handled all the installation and also included a window graphic of Bob Marley which splits into 10 different panes!

It's amazing the images you can now have on your flooring! Designers have been crying out for this concept for many years now. Imagine walking on clouds or water, or as this little girl is doing, lying on bubbles! We can print any image onto our new Floorink vinyl cushion flooring in both domestic and commercial qualities for both applications. The possibilities are endless for all areas including retail environments, commercial premises and educational establishments.